For over a decade, Water & Sanitation for the Urban Poor (WSUP) has been a driving force in Bangladesh, extending its compassionate hand to support service providers in key cities such as Dhaka, Chattogram, Rangpur, and Barishal. Their unwavering focus has been on fostering environmentally sustainable and economically viable solutions, endeavouring to grant the gift of clean water and safe sanitation to the most underprivileged corners of these bustling metropolises.
Green Ink has been a valuable partner to WSUP since 2017. Green Ink has worked on multiple projects that have helped WSUP create change in low-income urban communities. These projects have included designing narratives that have helped to raise attention to the water and sanitation crisis, creating awareness movements that have mobilised communities to take action, publicising impacts that have shown the positive results of WSUP's work, and archiving learning resources that have helped others to replicate WSUP's successes. The partnership significantly raised the profile of WSUP's endeavours in tackling Bangladesh's water, sanitation, and hygiene (WASH) challenges.
The extended collaboration began with providing media and communication support to promote WSUP's transformative SWEEP initiative, which has played a vital role in revolutionising sanitation services for urban residents in three of Bangladesh's major cities.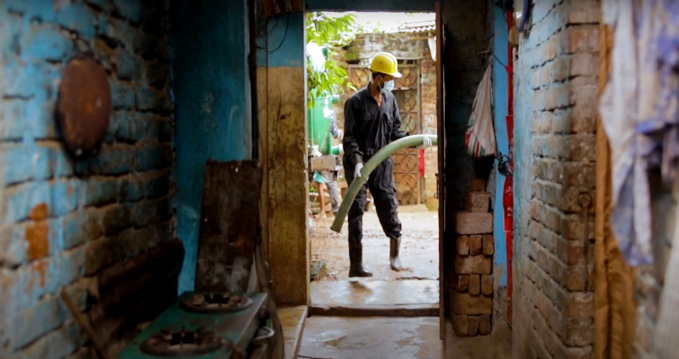 The innovative public-private sector-led SWEEP service was initiated to address the absence of safe collection and treatment of sanitation waste services in cities. Since its inception, it has benefited over 2.6 million residents in the country's capital, along with the cities of Chattogram and Rangpur, as well as five other municipalities across Bangladesh.
Green Ink also lent their expertise to support another project, wherein they assisted WSUP in developing awareness programmes, digital learning resources, and impactful stories to highlight
the importance of clean water for garment industry workers. In Dhaka, WSUP joined forces with Kontoor Brands Inc., an apparel company known for brands like Lee and Wrangler, to undertake a project aimed at enhancing access to water and sanitation services and promoting better hygiene practises among garment factory workers. By extending water and
sanitation services both within and beyond the workplace, businesses are not only enhancing their operations but also contributing to the development of resilient communities.
A similar project to the one mentioned earlier involved providing assistance in creating inspiring narratives and promoting success stories highlighting WSUP's innovative development initiative aimed at improving water, sanitation, and hygiene (WASH) accessibility for garment industry workers who reside within densely populated urban areas in Chattogram,
Bangladesh. WSUP and VF Corporation collaborated to undertake this endeavour, envisioning a significant transformation in the health, safety, dignity, and economic prospects of RMG workers.
Green Ink's unwavering commitment to supporting WSUP's mission knew no bounds, as they poured their efforts into crafting inspiring narratives and broadcasting tales of change that
chronicle a remarkable development initiative. The initiative aimed to enhance access to safe water, sanitation, and hygiene (WASH) in primary schools in Bangladesh's disadvantaged urban environments. In partnership with Dubai Cares, WSUP undertook the construction of new facilities and conducted comprehensive awareness and outreach campaigns. 
The ultimate objective was to improve the health and educational opportunities of children, paving the way for a brighter future for the young generation
WSUP's unyielding mission to revolutionise Bangladeshi cities with clean water and sanitation solutions remains steadfast. They press forward with a clear vision of uplifting communities, driven by their core belief that access to these vital resources is a human right, not a privilege. In their pursuit of transformative change, Green Ink has been a passionate ally, offering unwavering support to the cause and weaving together creativity and purpose to shape a future where clean water and hygienic facilities seamlessly integrate into the daily lives of all.